Advancing Chemical Engineering Education, Research & Technology for a better World
Although one of the smaller branches of engineering, chemical engineering and chemical engineers play a leading role in bringing science to reality for the benefit of life's essentials, including food, water, energy, health, and wellbeing.
Moreover, advances in chemical engineering education and research are enabling the development of new and improved technologies to increase sustainable production within these key sectors and to reduce or eliminate harmful solid, liquid, and gaseous emissions to our environment.
The chemical engineering profession evolved from the industrial applications of chemistry in the process industries during the second half of the 19th century (the Second Industrial Revolution). Both the translation of chemical processes from the laboratory to commercial scale and the demand for less polluting, less wasteful, more efficient, and continuous production led to the establishment of chemical engineering as an independent engineering discipline.
Driven largely by the nation building industries of chemicals production, petroleum refining, petrochemicals, steelmaking and power generation, chemical engineering served these industries with few analytical tools, relying on empirical data, physical properties, and slide rule calculations.
The advent of the computer in the mid-twentieth century heralded the beginning of the Third Industrial or Digital Revolution and the computer-based process analytical and plant design tools in use today.
UK industrial chemist, George E Davis widely regarded as the "Father of Chemical Engineering" is credited with delivering the first course in chemical engineering, a series of 12 lectures delivered in 1887 at the now University of Manchester.
Later, in 1901 Davis published his, and the first, Handbook of Chemical Engineering which introduced the concept of a distinct series of specific operations in a chemical process, later labelled as "Unit Operations" by the American chemical engineer, Arthur D Little in 1915.
It was some 20 years later in 1934 that the eponymous Perry's Chemical Engineers' Handbook was published, edited by Dr John H Perry, a chemical engineer at Du Pont in America.
The handbook was a source of physical properties of chemicals and other materials, fluid dynamics, thermodynamics and other data fundamental to chemical engineers and chemists. A "go to" reference book for every chemical engineering student to this day, the 9th edition of the Handbook was published in 2018.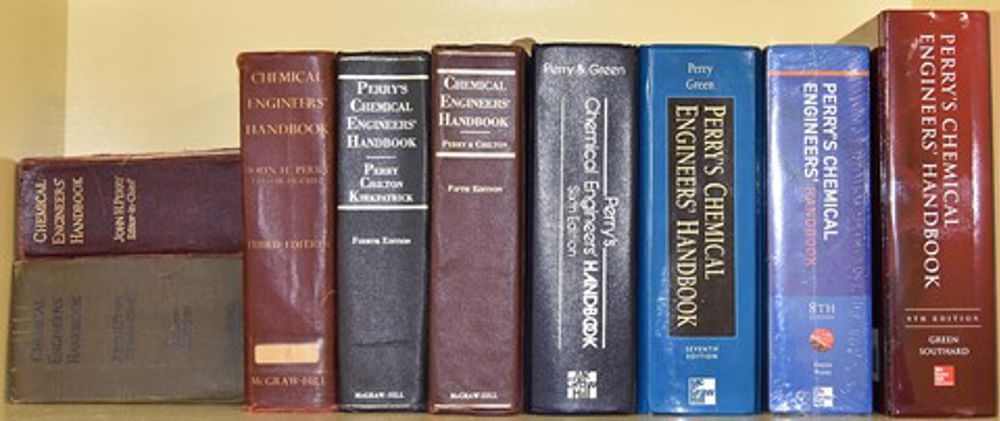 It was largely through the early efforts of George Davis to bring together practising chemists and engineers to nurture their combined skills for future generations that the Institution of Chemical Engineers was later founded in 1922.
Over the course of the 20th century, chemical engineering education progressively developed a specific discipline identity, focusing first on unit operations then adding applied thermodynamics, chemical reaction engineering, applied mathematics and transport processes, core subjects of the discipline and fundamental to the process engineering requirements of scale up and continuous production.
The great advance in chemical engineering education and technology began in the 1970s, coincident with and perhaps triggered by the great "space race", who hasn't heard of the "one giant leap for mankind" as Neil Armstrong stepped onto the moon's surface! There is little doubt that the space race was a driver for advancement in computer science, materials science and engineering design and technology. Since those days, chemical engineering education has embraced these developments and the ever-increasing computing capability to apply its fundamental core competencies to new fields such as biology, materials, pharmaceuticals, and the environment.
 By the mid-1970s, researchers, educators and industrialists realised that chemical engineers could contribute significantly to fields outside of the classical oil, gas, and chemicals. Today, chemical engineers are leading the way in development of cleaner, more efficient and sustainable production techniques, alternative and clean fuels production, nanotechnology applications, new high-performance materials such as graphene and electronics manufacturing.
In particular, chemical engineers are at the forefront of the climate change challenge with skills and technologies key to the emerging Hydrogen economy and to alternative production processes for waste reduction and recycling, greater energy efficiency and lower harmful emissions to the environment. Through the development of nanoparticle and other controlled drug delivery systems chemical engineers are contributing to the medical profession and, likewise, with the design and manufacture of new and improved semi-conductor materials chemical engineers are enhancing the capability of computers, mobile phones, solar cells and more.  
Coincident with the broadening of the profession to encompass process engineering and career opportunities beyond the classical chemical industry, interest in a career in chemical engineering grew among female school students. Today, chemical engineering schools around the world have the highest percentage of female students of all the main branches of engineering!
Chemical engineering is a boundaryless profession allowing chemical engineers to function seamlessly across national borders. This global connectedness is profound bringing together leaders in education, research, and industry from around the world to exchange ideas and to share successes, facilitated by Learned Society and Member led organisations such as the Institution of Chemical Engineers working with a network of counterparts around the world. These interactions are key to benchmarking global chemical engineering education standards and to driving advancement in research and technology development to meet the demands of society.
For the past, several generations we have been living through the Third Industrial (Digital) Revolution which has seen great advancement in education and research. We are now heading into the Fourth Industrial Revolution or Industry 4.0 dominated by the development of cognitive computing, artificial intelligence, and machine learning. Chemical engineering education, research and technology will take advantage of these powerful tools to make further extraordinary contributions for a better world.